With the wide variety of eCommerce solutions to choose from today, it can be confusing to pick the right one for your business. Selling on multiple channels can be a giant leap in the right direction for your business, and while website platforms like Bigcommerce and Mozu can be extremely helpful, Magento is definitely worth looking into as well.
Magento makes it easy for SMB's (small to mid-sized businesses) to fully optimize their eCommerce solutions, get product listings sorted out for multichannel orders and more. Larger retailers like Samsung, Nestle, Olympus and others rely on Magento for their web designs and operations. Not to mention the millions of small to mid-sized companies that trust Magento for their eCommerce solutions. Here are a few key reasons why these businesses say yes to Magento.
6) SEO Friendly & Ready
Your website looks fantastic. It has great appeal, your products are ready to fly off the shelves, and you're positioned to start selling on multiple channels like Amazon and eBay. Before you start selling online, there's more to consider. Don't watch all that hard work go down the drain by not optimizing your eCommerce pages. Making sure you incorporate the right copy, product reviews and offers are of course vital to attract consumers and to keep up with the competition, but Magento can help with much more.
Making sure your products are easily found on search engines such as Google is the key to increasing online sales for your business. Magento's eCommerce platform gives you the ability to fully customize meta-tags into multi-layered navigation, as well as optimize content pages, product copy, URL's and site maps. You can fully customize criteria on Magento to rank higher on Google, ultimately giving you the chance to drive more traffic and increase revenue.
5) Fully Responsive
Understanding the importance of responsive web design is an important first step in creating an effective eCommerce site. Since mobile site traffic is constantly expanding, and consumers are finding easier, quicker ways to shop, it is vital for your website to keep up.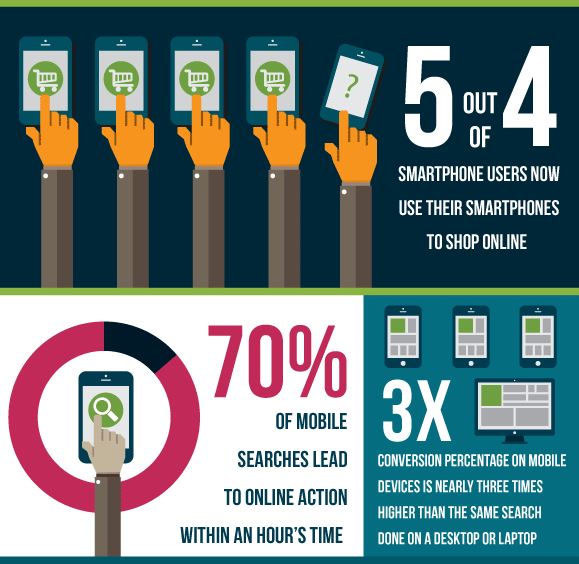 Business2Community.com
Selling on multiple channels is another way to expand your online business footprint, and Magento can help get you there with advanced product listings and a fully responsive, clean website design to engage with shoppers directly or while they're shopping from mobile devices.
4) Extensive Features & Easy Integrations
To increase sales even further, adding more features through your eCommerce platform is definitely a win-win situation. Some product extensions found in Magento Connect are extensive on their own, with detailed editing functionality, front-end management, landing page additions and many more.
With Magento, integrations are also easily accessible via shipping, database applications and payment gateways. As a Magento merchant, you can take advantage of a seamless integration into your orders and inventory, to give you the in-depth management capabilities necessary to run back office operations efficiently. With inventory management developed specifically for the Magento eCommerce platform, you will be on your way to experiencing rapid and integrated shipping, faster order processing, gaining real-time visibility into business metrics through reporting and dashboards and more.
3) Highly Scalable
Magento is highly scalable, flexible and versatile for retail operations both large and small. Many major brands trust the platform to run their eCommerce stores, including Nike, Nicole Miller, Ghiradelli and Easton to name a few. Some of these are recognized as the best Magento website designs based upon research findings and social media presence.
Magento's flexibility is in large part attributed to their architecture and the ability to offer multiple extensions, and modules designed specifically for the eCommerce merchant. If you need to add multiple payment options, languages or stores, for example, Magento can help you take advantage of all of these and much more through a wide variety of applications found in the Magento Connect extension marketplace.
2) Affordable
According to Google Trends, Magento is the most popular platform in the United States. One of the reasons for this is the platform's affordability. There is an initial charge for customization and installation, but when all things are considered, Magento ranks as an extremely cost-effective solution.
1) Open Source Haven with Community Support
Most importantly, Magento is an open source platform, with two versions available, Enterprise and Community Edition. The Magento Community Edition is free to use, and there are no hidden fees when if you choose this option for your Magento development.
Having an open source approach is the main reason so many large and small businesses choose Magento for their eCommerce platform. A large community of developers are also readily available around the world to help, as this is an open source eCommerce solution.
Final Thoughts
Order and inventory management go hand in hand. Understanding the key aspects of the pick/pack/ship fulfillment processes are essential, such as learning some shipping insights for eCommerce and managing your customer's experience.
With a fully integrated order and inventory management system (OMS) developed specifically for the Magento eCommerce platform, Freestyle Commerce helps you take care of all of your back-office operations and help you expedite the processing of your orders much faster. Here are some highlights of what you can look forward to with Freestyle Commerce's Magento inventory management integration.
One Back-Office Solution
Real-Time Inventory Updates
Easily Manage eCommerce Kits and Bundles
Process Orders Faster
Efficiently Managing the Inventory Purchasing Process
Inventory Replenishment & Drop Ship Order Processing
Learn more about how you can benefit from Magento inventory management with Freestyle through our live demonstrations or webinars or check out the video below.