Consumers love the four-letter word, 'Free,' whether that means scooping up some needless key chains or reveling in a free shipping purchase they just made.
The reasons to offer free shipping have risen over the years with increased conversions and more, but, free returns might be on its way to matching free shipping in years to come.
"Free returns and exchanges surpassed one-day shipping this year as the No. 2 incentive – 65 percent compared to 62 percent."
–Walker Sands Communications
Free shipping is not going anywhere, as it remains the top reason 83% of consumers do more of their shopping online. But, will retailers need to take advantage of more free incentives to keep up? With 'free' advertising becoming more and more popular, offering free product returns might soon be a necessity for retailers, especially in apparel.
What Should Retailers Be Aware of?
Shopping online more frequently is not the only thing growing in popularity, as more consumers are expected to buy expensive items online this year.
"Nearly three times as many consumers (27 percent compared to 10 percent) would purchase a product costing more than $1,000 without seeing it first if free returns were offered."
–Walker Sands Future of Retail Study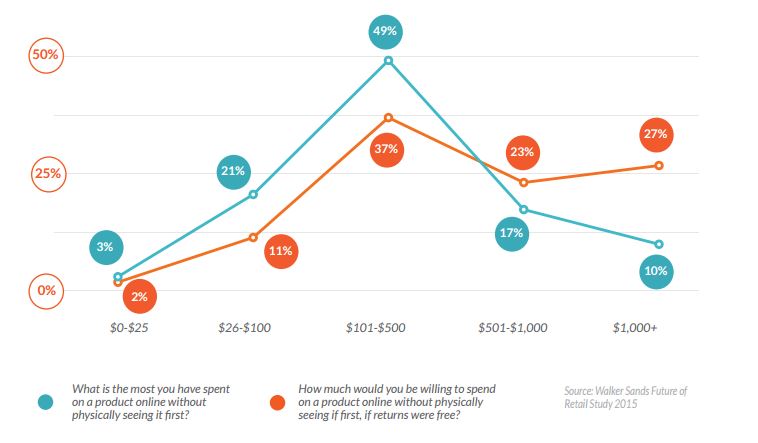 As the numbers show, ignoring these incentives can lead to a decrease in sales and customers, so implementing free returns is key. However, before you continue, you want to be sure all of your business goals are set up properly.
Check out some retail strategies and tips before offering free product returns for your customers.
Some of the best website designs trump their competitors because of their product placements and optimized page copy. One more way to stand out is to make your free offers accessible on your site and product pages. Making them stand out will give your customers the peace of mind to continue shopping on your website.
Look Out for High-Frequency Returners
Although it seems obvious to keep up with eCommerce giants like Amazon who thrive on their free incentives, small businesses must be wary when going forward with free returns. Since a third of all internet sales get returned, it is vital to keep an eye too many happy returns. Be sure to monitor your free returns and keep an eye on consumers who might be taking advantage of things like wearing items once then returning them.
Offer Secure and Flexible Payments
With consumers shifting towards mobile online payment systems, especially for the upcoming holiday retail season, be sure to keep up with the changes and offer a wide variety of options for shoppers. Implementing free product returns can be beneficial to your brand, but you could lose sales, if you neglect to give your customers a plethora of payment options.
As a small business, you have an advantage over larger eCommerce stores like Amazon when it comes to free returns. Amazon has made their empire on offering free initiatives, but when it comes to apparel, small is bountiful. Understand your lead and take advantage of implementing these incentives to compete.
You can also continue to offer discount pricing and increase sales by implementing eCommerce kits and bundles. When it comes to giving your customers the best possible service, free shipping and free returns can significantly help increase your sales, but make sure you know the basics before jumping in head first.
The reasons for offering free shipping and returns are endless, but paying attention to some key aspects will only help your business flourish in the long-run.
The user experience is critical to the ongoing relationship between eCommerce companies and their customers. Find out how to avoid falling behind after checkout.