When you sell on multiple sales channels, the task of fulfilling orders through different channels becomes complex. You need the right amount of products on hand to fulfill multiple orders, and if you sell on Amazon, maintaining inventory levels is a requirement, not a request.
In a previous post, we explored the Top Reasons Why You Should Use Amazon To Manage Inventory. Now let's look at some of the drawbacks to using Amazon to manage inventory. While there are excellent reasons to take advantage of Amazon, there are some downsides to consider as well.
We know that the Amazon marketplace gives online retailers of all sizes the opportunity to sell to millions of potential customers, significantly increase sales, and gain loyal customers in the process. Whether you're an Amazon seller exclusively selling on the marketplace or it's just one of your sales channels, you need to manage inventory. And, when using Amazon to manage inventory, you have options.
So what are the disadvantages to using Amazon to manage inventory?
7) Retaining Customer Service
If Amazon fulfills your orders and ships them, they also handle customer service on your products. While this can be a way to reduce the distractions associated with routine inquiries, it can also prevent you from staying in touch with your customers. When speaking directly to your customers, you establish a relationship and maintain quality of service, while providing the opportunity to get more sales from existing customers by upselling other products.
If you use Amazon to manage inventory and fulfillment, they would store, pack, ship your products, and provide customer service to your buyer. Amazon's new manage inventory page was implemented to allow customers to fulfill orders faster, but like anything else, there are some potential challenges that can arise with this also.
6) Building Your Own Brand
Let's face it. Amazon exists for their own benefit. Some see Amazon as an inhibitor to a business interested in building its own brand. Amazon is only interested in building their brand. Yes, they provide sellers with an opportunity to distribute products across a vast network they might not be able to do on their own. But, they have no interest in helping you build your business; it's not part of their business model. And, the customer remembers making their purchase on Amazon; not on your web store.
Businesses grow through repeat business. You cannot create repeat business on Amazon, because the branding is designed to reinforce just their sales channel and not your store. Staying away from Amazon to manage inventory might be the right move to really stand out from the competition.
5) Maintaining Your Amazon Seller Rating
Inventory levels in your Amazon store(s), as well as other channels, can get out of sync. You risk overselling and tarnishing your Seller Rating if you have insufficient inventory on hand. This becomes increasingly important if you're selling through Amazon, since they require you to reserve specific inventory volumes for their channel. If you manage your inventory directly, you know first-hand how much you have on hand or need to fulfill across multiple sales channels.
4) Gaining Control of Kitted & Bundled Products
You can easily boost sales with eCommerce kits and bundles. However, kits can complicate things if you don't have strong inventory control in place. With kits, you need to keep track of inventory related to each kit component to sell the item individually or in a group. This can be hard to control if you're only using Amazon to manage inventory and not keeping
track of items sold across multiple sales channels.
3) Price Wars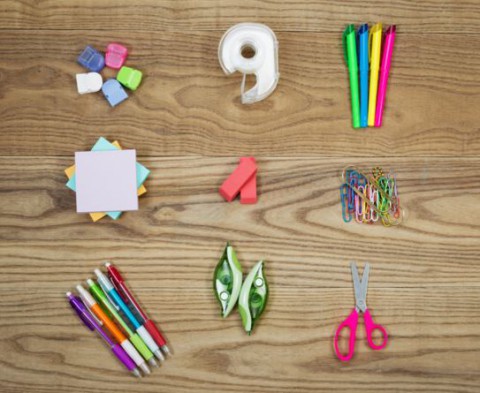 When you're selling on Amazon, you're always competing on price. If you're lucky enough, you can win the 'buy box.' And, learning how to win the Amazon Buy Box can take time. However, a business cannot grow when it's competing solely on price. You lose the opportunity to build relationships with buyers through marketing, merchandising or customer service. Each business is unique, so you need to weigh out the pros and cons. It may not be worth the trade-offs in the long run.
2) Inventory Item Limitations
There are several issues that can prevent your inventory from listing on Amazon.com. The most common issue occurs when items appear in the 'Inventory Amazon Fulfills' page but no listing exists on the 'All Inventory View' page. This happens when the listing is deleted for the item using a feed or the All Inventory View page. If you have more of the product to sell, you will need to list the item again using the same merchant SKU, ASIN and condition.
You cannot delete or remove the original Amazon.com inventory item listings, but only archive them to hide them from view. Also, if you want unfulfilled inventory returned, you must fill out a request form.
1) Multichannel Inventory Management…Keeping Your Own Inventory In Sync
The Amazon marketplace is a separate and unique sales channel. Amazon inventory management requires you to reserve orders specifically for sale through their marketplace. If you use a multichannel system to manage orders and inventory, it would be set up to communicate with your shopping cart(s), along with other shopping channels like Amazon.
If your inventory management system does not sync with multiple sales channels, you lose visibility into your stock levels across the channels. You would need to perform frequent manual reconciliations. In this case, letting Amazon manage the inventory for the products you sell there may make sense.
Applications are available to help you gain visibility into orders from multiple sales channels to insure your inventory is in sync across all channels. While selling on multiple sales channels puts the burden of inventory synchronization on you, a multichannel inventory management system gives you a dashboard view across your sales channels. With it, you can manage stock levels, receive alerts when replenishment thresholds are approaching and more.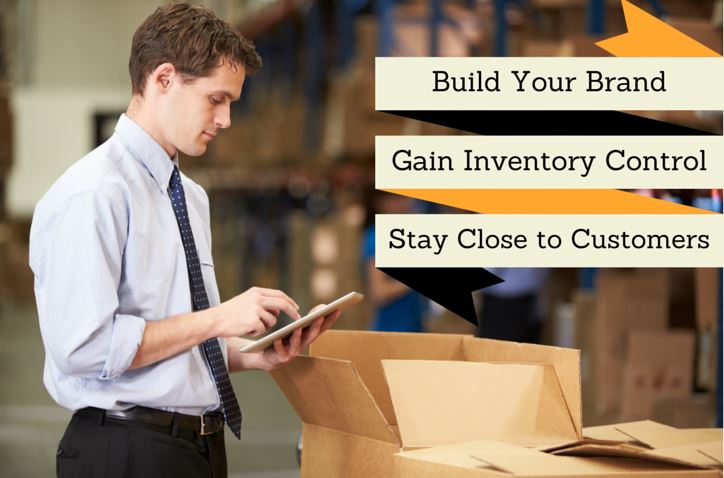 Final Thoughts
Managing inventory in one place helps you avoid stock-outs [or double-selling], and gives you a better analysis of your products in terms of performance, peak selling periods, etc. And, centralizing inventory management for retailers across sales channels allows for more accurate inventory calculations. More importantly, streamlining essential back-office processes supports current and future growth, eliminating the bottlenecks that occur with manual processes.
Inventory management for online retailers does not have to be complicated. Learn more in the FREE inventory management eBook below.
Which is the right approach for you?