There is no question whether online shopping will continue to grow, as the web becomes more of a go-to resource for everything retail.
"In 2015, over 200 million U.S. online shoppers are projected to shop online at least once a month."
-invespBlog
But, the real question is; how will you as a retailer use this knowledge to your benefit?
Stable and reliable eCommerce platforms have significantly improved online shopping experiences, and as eCommerce shopping habits amplify, it is crucial to take the necessary steps to keep up. Utilizing all of the functionality of an online order management system will help your business thrive in the long run.
Why Use Freestyle O.M.S.?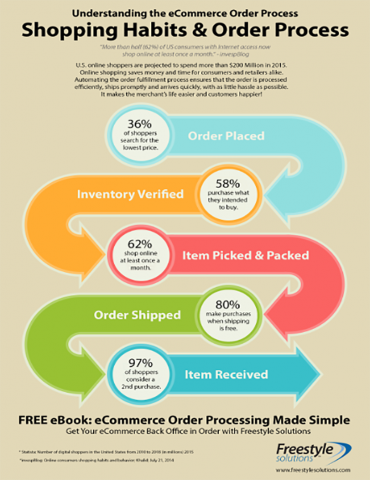 The ultimate goal of an order management and inventory system is to make the merchant's life easier and customers happier. An order management system benefits your business by encompassing all behind-the-scenes efforts, like managing the inventory purchasing process, after the customer places their order.
Not only does it ensure the order is processed efficiently, but the system makes sure it is shipped promptly and arrives quickly, with as little hassle as possible. You can easily accomplish this by taking steps to manage your customer's experience.
If you sell a product, ship it to customers or outsource that function, research confirms order management system benefits will continue to grow, particularly if you're processing more than 10 orders a day. An OMS frees you to focus on the essential back office activities to fuel the growth of your business.
An Intuitive, Fast Solution to Order Processing
If you're like most retailers looking for an OMS, you're looking to technology to give you flexibility and make your life easier. You want a solution that's easy to use, intuitive and uncomplicated.
Why not discover the many order management system benefits, like processing orders faster, cheaper and without error. All of this can be done through our seamless integrations. Order processing has never been so simple. Snapshot accessibility to control inventory in real-time will leave you wondering why you didn't start this process sooner.
At the end of the day, having satisfied customers will help your business expand, increasing the chance of repeat business and referrals. " If someone on Yelp mentions good customer service, they are over 5 times as likely to give a 5 star review, rather than a 1 star.
"Focus on great customer service and the ratings and reviews will come."
–Yelp
In order to provide the best customer service as a multichannel retailer, your OMS should:
Have visibility into your customers' orders across all of your sales channels
Be able to quickly respond to customer inquiries and engage them
Give customers the ability to view the status of an order online or be able to call and get information in real-time from a customer service team member.
Give your business room to grow, and find out more about order management system benefits in the Multichannel Order Management for eCommerce eBook below.