Watch out retailers. Both women and men's apparel sales are on the rise, according to Mintel, Lightspeed GMI and Quartz.
With an estimated increase of 14.5% between 2014 and 2019, women's apparel profits are expected to rise from $121.8 billion to $139.0 billion.
–emarketer.com
But Are Men Shopping More than Women?
Women love to shop. There isn't a soul who doesn't know that, but women are not the only ones hooked on fashion. Men's online apparel sales are growing faster than not only women's apparel, but beer and electronics too. Yes, you read that right. Men are purchasing clothes and accessories more than computers, cameras and beer.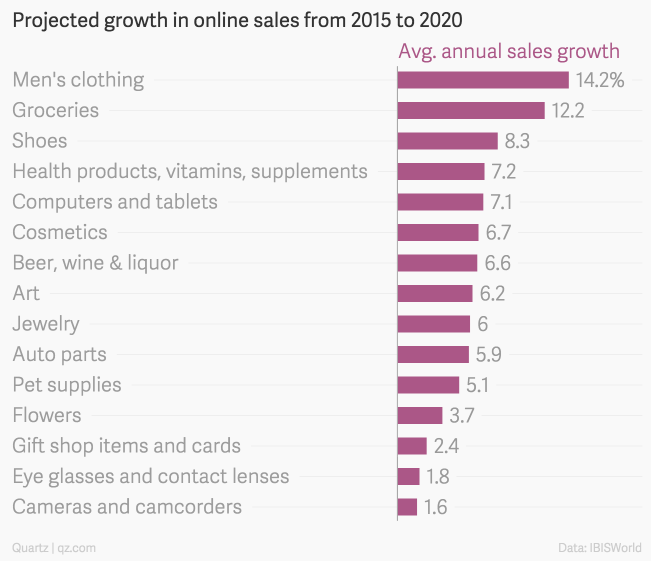 Some apparel retailers are starting to diversify inventory, in order to sell more online and accommodate the demand for men's apparel. This gives fresh ways for men to purchase apparel items at their fingertips. To keep up with these eCommerce trends, it would be beneficial for apparel retailers to follow suit and embrace the growing numbers of male fashion consumers.
So how does a multichannel retailer keep up with trends and technology? I know what you may be thinking. Who has time to look into new technology advancements, while running a business?
How to Use this Knowledge to Increase Sales
One thing you can do is follow the lead of the larger apparel retailers – those that are dressing up their back office processes to achieve their business goals faster and more efficiently.
If you're a multichannel apparel retailer, you have specific demands for keeping track of orders from multiple sales channels, from the moment a customer purchases your product to order fulfillment and more. Managing inventory across those channels and supporting shipping methods with some added TLC will only help your business thrive in the long-run.
Here are some benefits to gain from automating back-office multichannel operations:
Capture & Stage Orders Automatically
Manage Inventory Across All Sales Channels
Automatically Download Orders from All Sources
Publish Product Information & Keep Inventory in Sync
Support Configurable Products with Size, Color, etc.
Further Expand Your Reach to Sell Across More Sales Channels
Process Order Fulfillment Easier

What Else Should an Apparel Retailer Take Into Consideration?
Picture this: The orders are really starting to flood in, but your payment methods are not exactly up to par. Mayday, because this is where many errors can arise. Don't let that happen in the order processing or fulfillment stages.
Being able to process multiple and mixed payment methods, like PayPal, credit and store cards, gift certificates and more is a must. But, having the ability to automatically queue orders for processing based on your stock levels is a luxury many retailers could benefit from. Managing the inventory purchasing process can be quick and simple.
You want to be sure you can track all orders by stage, from picking and packing to delivery as well, all while keeping your customers up-to-date every step of the way. It's no longer a 'nice to have.' It's vital to always know what's in stock to better serve your customers.
Today's connected shopping environment enables even the smallest apparel and specialty retailers to reach vast audiences for their products while meeting demand, but you'll need the proper tools to do so.
So, what's the technology that can help you make it all come together? A cloud based, multichannel order and inventory management system (OMS). With an OMS, inventory and order processing has never been so simple. Find out why implementing one is a crucial requirement to supporting your growing SMB.
Check out some emerging trends in the retail industry, how you as an apparel or specialty retailer can benefit from an OMS and the processes you can expect in the eBook below.