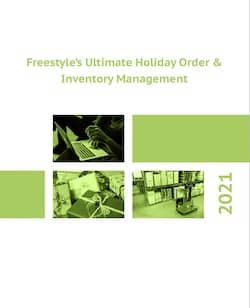 For years, Freestyle has published timely, relevant, exceptional content geared towards helping retail brands and eTailers get through the busy, hectic, profitable holiday season.
Now, we're pulling some of our hottest pieces together into our new "Freestyle's Ultimate Holiday Order and Inventory Management Ebook", including:
How to Take on the Holiday Retail Season Like a Pro
5 Tips to Help Retailers to Prepare for the Holidays
Holiday Shipping & Ordering: Did Someone Say Start Early?
5 Essential Tips to Take on Holiday Shipping
eCommerce: How to Keep Customers Happy by Making Returns a Breeze This Holiday Season
Save Time & Money – Prepare for Seasonal Warehouse Order Surges
And more!
Get our top 15 blogs about how to survive and thrive this holiday season. Every eCommerce brand who deals with order and inventory management needs this eBook.