If you've been concerned about COVID-19 resulting in an even more accelerated pace of retail stores closing across the globe, you're not overreacting.
But even before the pandemic, retail started to notice a trend about a decade ago. It was in 2010 the term "Retail Apocalypse" was coined, launching the issue of brand-failure into the mainstream. The past four years have shown no slowing down, as we've seen a staggering increase in the number of retail brick and mortar stores closing. So staggering, in fact, the number has more than doubled in the last two years.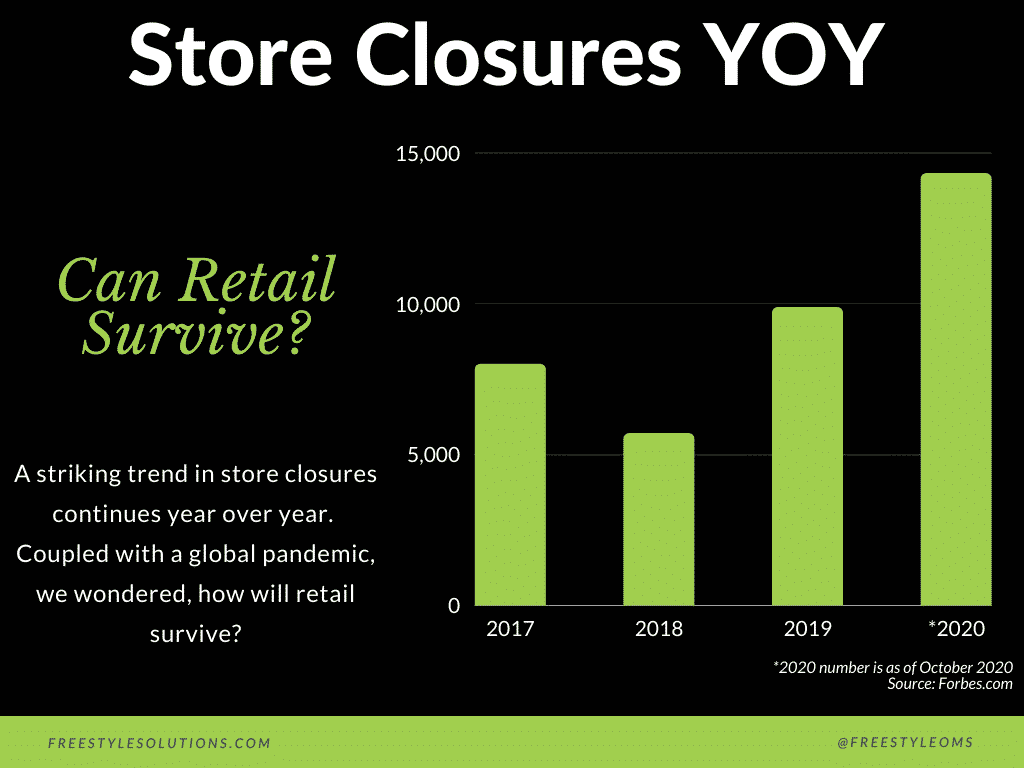 So what does all this tell us? Well, ten years of data surrounding store closures, coupled with the added pressure COVID-19's putting on brands big and small, leads us to believe we should expect to see much more turmoil in 2021 (and beyond).
The uncertainty of the pandemic will continue to wreak havoc across all industries, as consumers and financial markets express a collective wavering of confidence in the future of retail. Expect everything to change, from what the in-person shopping experience looks like, to an increased acceleration of brands scrambling to shift efforts toward eCommerce, which has become the preferred method of retail for so many consumers.
Retail Stores Closing in 2020
We're seeing closures that affect every category in retail, from large department stores like Lord & Taylor, to men's legends like Brooks Brothers, to home goods behemoths like Bed Bath & Beyond. Chains are rapidly filing for bankruptcy – some to reemerge smaller and more focused, while others, like JCPenney, are closing underperforming locations in an attempt to shrink their footprint in a search for profitability.
How Will Store Closures Impact eCommerce?
This holiday season in particular, there's increasing focus on how eCommerce can help salvage brands, as in-store shopping continues trending downward. And if you want to be a glass-half-fuller, there really is a potential upside.
This year, brands are presented with several opportunities to attain their best sales season ever, including combining:
Smart inventory planning

Omnichannel

options

Opportunistic promotions
The end has not been written yet on the story of store closures, but we do know that the world of eCommerce finds itself uniquely placed to pivot. Companies find themselves poised to take advantage of the turmoil and challenges of both the continuing trend of store closures that we've seen over the last decade, as well as the challenges COVID-19 has created. The opportunity to make additional sales through the holiday season and well beyond may just be what saves some brands.
Want to learn more on the developing trend of stores closing?
These retailers announced hundreds of store closures in September
More Than 14,000 Stores Are Closing In 2020 So Far—A Number That Will Surely Rise
If you want to share your perspective on store closures or if you have questions about how Freestyle can help your business, please contact us or email at sales@freestylesolutions.com.