GUEST POST BY WISEGUYS MARKETING'S BRUCE GREGOIRE
Customer LTV, simply put, is the net dollar value of your average customer over his/her lifetime, and it's a subject marketers love to talk about but rarely implement. The reasons for this disconnect could be many:
Perhaps LTV is viewed as a strategic in nature: something you only need to do every year or so. Kind of like doing your bucket list – not something you pay attention to routinely.

Or it may be that LTV is rare for a more practical reason: without an integrated marketing database, marketers have huge challenges bringing the components of LTV (Average sale $, COGS, retention rates, customer acquisition expense, present value of money, etc) together in one place.

More recently, the advent of click-thru product purchasing, most notably via Amazon, has created the fear that your long-time customer is only one click away from switching their loyalty elsewhere.
Why LTV
Every shrewd CEO reserves the right to demand ROI from your marketing efforts. LTV is one important metric to track marketing success (as well as customer loyalty).
In terms of ROI, in the world of digital marketing, consider your PPC keyword charges as your customer acquisition cost. What if you could do your pay-per-click bidding with LTV values at hand? Goodness, what a concept!
What if your bidding was based on the ultimate LTV of a converted customer, rather than just the value of their first purchase transaction?
What if you found that you can actually justify higher bids on certain keywords – i.e. keywords that represent conversion of high value customers with multiple repeat visits!
How to Get There From Here
To begin your journey toward calculating LTV, the first step is to start with an integrated database – sometimes referred to as a CRM application.
Of the many platforms that our WiseGuys staff has encountered, the Freestyle Solution's Multichannel Order Manager (M.O.M.) platform has the most straightforward solution. Simple is almost always better, and MOM supports that approach.
Freestyle M.O.M.'s Order and Inventory Management Software

Customer File

: Freestyle M.O.M. stores the net dollar amount spent for each customer, cumulative for all time, in a single field named, you guessed it, "Net."

Net contains the lifetime gross dollars spent, minus the lifetime cost of goods sold, for each customer. Note that for the sake of simplicity, we're avoiding customer acquisition costs at this point in your analysis. If you know that number, you can subtract it from your result in the last step below.
Filtering:

Any customer table is bound to have a mix of outliers that need to be filtered out from LTV calculations. M.O.M. supports filtering, in the same table, with 3 unique customer-type fields.





For instance, you can filter out your wholesale customers from your retail customers, to prevent mixing apples and oranges.

LTV Rollup Display: Since long-time customers will have a higher LTV than newer ones, you will want to build a chart showing LTV since their first order (see sample chart below).Rolling up LTV by entry year (first order) is the ideal way to represent this metric, typically done with a Crosstab report. Even rookie users of MS Access or other query tools can create a crosstab analysis, again using the customer table.

For Freestyle M.O.M. users, the 4 digit year portion of the "EntryDate" field can be cross-tabbed against the "Net" field. From this display, users are encouraged to ensure that your dollar amount in the Net field are close to covering your acquisition costs. Any excess, as they say, is gravy.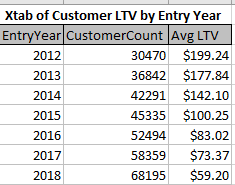 With LTV, start simple and get faster results – you may be surprised with what you see. From there, you can do additional filtering to see variations in your results based on your inputs. But you should leave with this takeaway: "The LTV of our average customer is $X.00 – and here is what that means to our company moving forward."
Be sure to check back for part 2 where we discuss the stepchild of LTV, Near Term Value (NTV). If you're looking for help finding ways to improve your customer LTV, reach out to Freestyle today to learn more.

Bruce Gregoire is Founder and CEO of WiseGuys Marketing, based in Falls Church, VA. He is also a guest speaker on CRM in the graduate marketing department of the Carey Business School, Johns Hopkins University. Since 1998, Bruce has assisted more than 100 clients – many with the Freestyle platform – with their database marketing needs.
WiseGuys Marketing
(703) 941-8109
BruceGregoire@WiseGuysMarketing.com