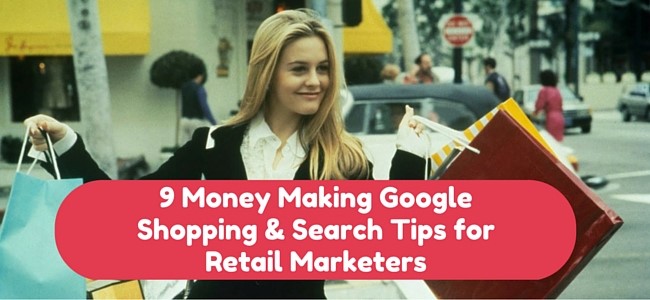 Sixty percent of people begin shopping by using a search engine to find the products they want, according to a study conducted by MineWhat. Eighty-one percent of shoppers conduct online research before they make a purchase. The internet and Google have fundamentally changed the way we shop and purchase products.
Personally, I get it. I frequently buy things online, from gifts for my nephew to mundane things like cleaning supplies for my apartment. Amazon Prime has become a close companion of mine. Whenever I'm shopping in a store I find myself hoping on Google to compare prices and read product reviews. This is something many of us do nowadays, which shows that for retailers Google ads are a critical part to reaching your revenue goals.
Whether it be a solely e-commerce based business, a local store front, or a combination of both, retailers have little to no chance of surviving unless they have a robust PPC advertising strategy to promote their products to shoppers online. A huge component of succeeding in retail is being able to effectively advertise on Google using the Search Network, as well as Shopping Ads (formally known as Product Listing Ads or PLA's).
Although the shopping landscape is constantly evolving, which makes this a bit more challenging…
The Challenges Retailers Face
Standing out against competition has to be the number one battle retailers face when advertising their products.
From the looks of it, the playing grounds are only getting more crowded. Retailers spent 47% more on Google's shopping ads than they did a year ago, according to Adobe's Digital Index of online advertising. Yikes!
Shopping ads make it easy to compare prices and products right from the SERPs. With search ads your brand either needs to be well-known or your ad needs to be crafted in a compelling manner to receive clicks and hopefully conversions. Retailers have to fight to get their ads placed in the top spots on the SERPs and create compelling cases as to why a shopper should choose your brand over another. It isn't easy! "E-commerce is so black and white – either you make a sale or you don't," says WordStream's Senior Paid Search Strategist, Jaclyn Jordan.
So, how can retailers stand out on the SERPs? Let's explore the top 9 ways to roast your retail competition and run effective shopping and search campaigns.
#1: Determine How Much Budget You Want to Allocate for Search vs. Shopping Depending Upon Your Goals
Should you be using search, shopping ads, or a combination of both?

After chatting with two of WordStream's most senior Paid Search Strategist it was clear that utilizing text ads through the search network and visual shopping ads are both critical to a complete PPC strategy, but deciding on how to allocate your budget from one vs. the other is dependent upon the products and goals of the advertiser.
Shopping ads are the natural focus for retail advertisers looking to gain quick and easy ROI. As you can see in the image above, shopping ads give you all of the information up-front including an image of the product, the brand, price, and even reviews. "With shopping you typically see a higher return on ad spend, CPCs are generally cheaper, and conversion rates are higher because clicks are more qualified," says Jordan. "The shopper already knows the price, sees the promotion and is more committed when clicking an ad then with search ads."
Retailers spent 6% less on text ads then they did a year ago "making it abundantly clear that they think ads with product images in them result in more clicks and sales," says Forbes contributor, Robert Hof.
So, why bother with search ads at all? Well, search ads typically yield higher brand awareness in turn creating repeat buyers. "With shopping people often go in and purchase one product, and never return. With search there's more of an opportunity to build brand loyalty and create lifetime buyers," says WordStream's Senior Paid Search Consultant, Mike Griffith.
"It really depends on the advertiser," says Griffith. "Some of my clients have 80% of their budget allocated to shopping, others shopping doesn't work well at all. I recommend not sticking with hard and fast spend X amount in shopping and Y amount in search, but rather be flexible. Increase your budget for the channel that's working better to accomplish your goals, and where you're seeing the best return."
#2: Separate Shopping Campaigns by Priority
As opposed to search, where you spend hours upon hours strategizing and building out an account Google does a pretty thorough job of pumping out product categories for shopping campaigns automatically. Although relying solely on Google to set up and run you're shopping campaigns won't work.
"After shopping is set up you should create a separate campaign for standout products, and mark them as 'high priority,'" says Griffith. "You want to ensure that you're monitoring and dominating the shopping results for those products. If you leave all products in one campaign you'll be forced to raise your budget for products that have lower profit margins. Don't be afraid to exclude products or mark products as low priority."
The main takeaway is to make sure your products of similar value are grouped together so you can easily allocate and adjust budgets in a logical manner.
#3: Ensure Your Shopping Ads Images are High Quality & Your Prices are Accurate
This should be a no-brainer, but seriously make sure your price points are competitive. Search for your ads through Google's Ad Preview tool to see how your price points align with your competition because with shopping ads having the price so clearly displayed, not having the best price or unique selling point can often make or break your chances of gaining a sale. "If you're selling photo prints and every one of your competitors is displaying the price for an 8X10 in their ad, don't put the price for a 12X24 because people will look over the size and just see the higher price," says Griffith. "If your price isn't competitive focus on the fact your turn around is under 24 hours. If you can't beat them with price find out where you can beat them."
The quality of your images can also make or break a conversion from occurring. Again, a no-brainer tip – don't use crappy images, it's that simple.
#4: Beat Your Shopping Competition through Reviews, Google Trusted Store Badge, and Merchant Promotions
As we discussed before, competition is a never-ending battle in the retail space so doing everything you can to distinguish your products and build confidence and trust to convert more customers is critical. "In retail, it's all about determining how you can stand out and add more value than the other players selling the same products," says Jordan. Utilize these four techniques to create more incentive to choose your store over your neighbors.
Product Ratings
Eighty-eight percent of consumers say they trust online reviews as much as a personal recommendation, according to research from BrightLocal.
Reviews help build trust and incentivize the user to purchase. Unfortunately with shopping you can't just hop in and hand pick your best reviews from various sources. Rather you need to gain at least 50 reviews on one of Google's third party approved sites (to ensure the reviews show). Check out the approved third party sources here, where you should be actively seeking reviews to ensure they appear in the SERP's.

Google Trusted Stores
Another way to stand out is by becoming one of Google's Trusted Stores, which "can improve your conversion rate and average order size by reassuring potential customers that you offer a great shopping experience," according to Google. Follow the application process here to join the program.
Google Merchant Promotions
Lastly, you should 100% be using Google Merchant Promotions to create a sense of urgency and spur your users to choose you over the ad next to yours. As you can see in the image below the second shopping ad is tagged with a "Special offer" sign to show free shipping is available for a limited time. This incentivizes shoppers to get the best deal and chose you over your competition. Set up requires a few steps including filling out the merchant promotions interest form and either using the +PROMOTION tool or setting up a promotion feed. Follow the steps here to get your promotions approved.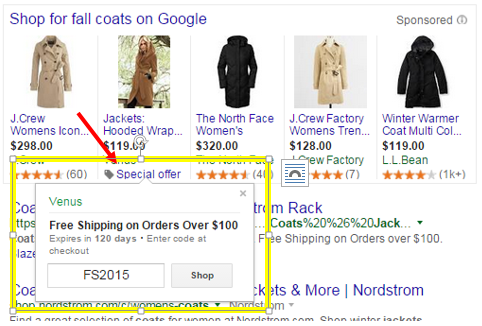 #5: Structure Search Campaigns Based on Site Navigation and Product Groupings
There are a plethora of ways to structure your AdWords account, whether it be by product categories, price points, locations, or sales cycles, there's no one-size fits all strategy. Although, for retailers, if your site is well structure (which it should be), then it's recommended to structure based off of how your website is built.
Let's take Rent the Runway for example. As you can see in the image below their unlimited tab has several categories – New Arrivals, Dresses, Tops & Bottoms – to name a few. In that case they would want to have a campaign for each category under Unlimited.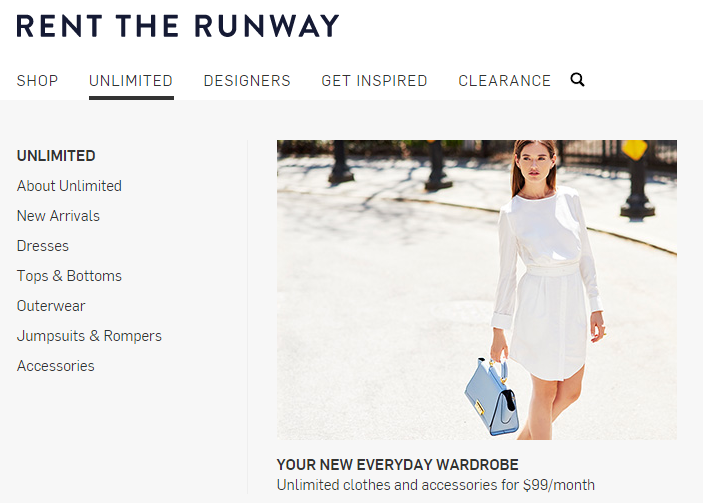 Then under the Designers tab (shown below) they would want to create a campaign or ad group for each designer being searched for.

The main reason you should organize search campaigns around your website is due to the ease of updating and optimizing. "It's unbelievable how much the structure of your search campaigns can impact the performance," says Griffith. "Your life will be so much easier if you structure around your site navigation, for instance if the stock of your red t-shirts goes down, you can hop into your t-shirts campaigns, go to the red t-shirt ad group and pause that group until they're back in stock."
#6: Increase the Credibility (and Clickability) of Your Ad Copy with Numbers
It's been proven time and time again that people are attracted to numbers! "Numbers are easy to digest and understand, and studies show that incorporating them into your copy can make it appear more accurate and credible," says Unbounce's, Johnathan Dane. You shouldn't limit numbers and prices from being displayed just in shopping ads. You should be utilizing numbers to increase the CTR of your search ads.
"Anything with numbers works well! A percentage off, a price point – it can't just be 'we have the best clothes,' because everyone's selling the same thing," says Jordan. "I have clients selling the same shampoo and competing with huge brands like Sephora – compelling numbers (for instance a lower price point or a percentage off) can help them stand out."
#7: Understand When Your Seasonal Peaks Are and Plan Accordingly
The kids are heading back-to-school. Are you ads updated accordingly? They're not? You should have started planning back in July! "Whether it's summer sales, black Friday, or the holiday season, as a retailer you absolutely need to know your seasonal peaks and plan around them," says Griffith. "Build ads for seasonal peaks and label them using Google's label system to easily turn them on and off when in and out of season."
But, what if you're not sure when your seasonal peaks are? Griffith recommends visiting Google.com/trends where you can search various categories, like office supplies or kids clothing, and analyze the seasonal and regional peaks.

From Jordan's experience working with several retailers of all sizes, Q4 tends to be the biggest quarter for the majority of advertisers. Aside from running ads relevant to the holidays, budget allocation also needs to be top of mind during these seasonal spikes. "Competition ramps up during these times," says Jordan. "Budget planning ahead of time is always a priority for several of my retail clients during Q4." Jordan spends time readjusting budgets to ensure her clients are being competitive, getting promotions aligned, and automating ad schedules ahead of time.
#8: Take Advantage of Automation
Retailers are often selling hundreds or even thousands of products, several of which they're promoting through Google. So how in the world can you keep up with maintaining you massive search and shopping campaigns?
"With retail, quantity is often better then quality," says Griffith. "If you have 1,000 products you don't have time to A/B test an ad for every product. Relying more on automation becomes important for most retailers. Leverage everything AdWords has to offer to keep the manual work out of it." Not sure where to start? Try these three automation tools to make your life a lot easier.
Conversion Optimizer: Caution, this bidding strategy does not work for everyone so you just ensure you're doing it right. "Conversion optimizer can work really well with products that have low to medium average order value," says Griffith. Make sure these products have similar order value. For example, you wouldn't want to use conversion optimizer on a campaign which contains and Ad Group for laptops and another Ad Group for USB cables. "Conversion optimizer works by optimizing for the number of conversion so if you're using it in a campaign that contains a variety of order values, you could end up selling tons of $5 USB cables and never any laptops $500+ laptops," says Griffith.
Automatic Bid Rules: Automatic bid rules check in on ROI goals once a week, and if the keyword is above goal it will be automatically bid up by 5%. If a keyword is below goal it will be bid down 5%. Nervous about giving Google bidding reigns? Don't be. "You'll set up a Max CPC and Min CPC with any bid rule you create so that you don't end up spending $150 per click," says Griffith.
Ad Customizers: Ad customizers are one of my personal favorite automation features Google offers to dynamically update your ad copy without having to move a muscle. Running a promotion? A limited time offer? A sale that's about to end? There's a plethora of ways to utilize ad customizers to instill FOMO (fear of missing out) in your searchers and entice them to convert.

#9: Create Returning Buyers through Smart Remarketing
I'm a strong believer that every industry should be remarketing. It works. But, there are strategic ways to get even more profitability out of remarketing in retail.
In the retail space value isn't typically gained from one-time buyers, but rather regular customers who keep coming back for more. But, your shoppers are busy! They might forget how positive their online transactional experience was with your brand if you don't remind them. This is why you need to be smart with remarketing tactics that will re-engage a previous shopper at the right time. Think about the lifespan of your product. For example, do you sell face wash? How long does a bottle typically last? If its two months, then run a remarketing campaign targeting previous consumers after 50 or so days of purchase to remind them to order more before they run out.
Another remarketing tactic to create returning buyers is by upselling them based on products they've previously purchased. "If a shopper buys your shampoo then remarket a deep conditioner to them," says Jordan. "Be aware of what products complement the one your customers have previously purchased and remarket to gain more sales through the same customers."
So, are your ads ready for Halloween? It's time to start prepping and stepping up your search and shopping game to out-sell your neighbors, and create loyal customers.
Check out the webinar below, a retailer's guide to PPC marketing, brought to you by Freestyle and WordStream.