Purchase Order Management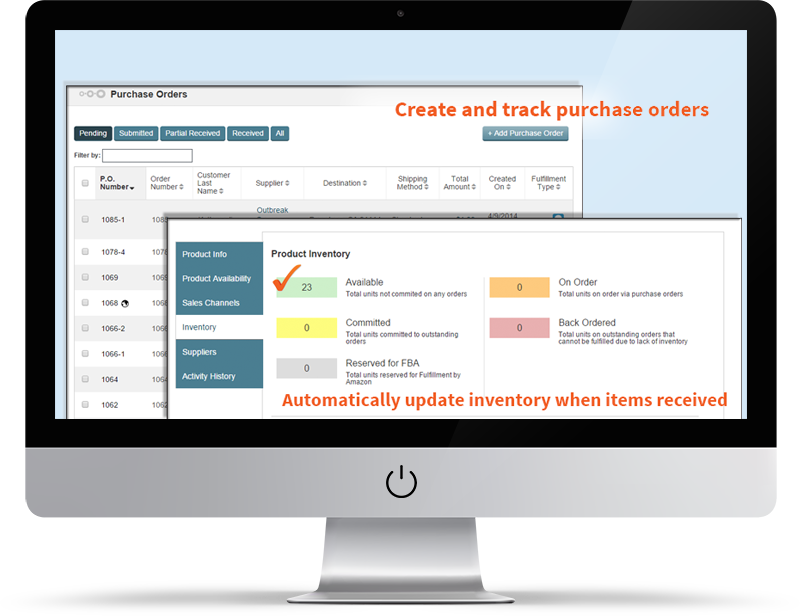 Send Purchase Orders With Ease, Online
Keep track of reorder points at a 'per SKU level' and be alerted when those reorder points are reached with our purchase order management system. From there, you can quickly create and send off a purchase order to the correct supplier(s) with just a few clicks of a button. It's that easy! Supplier contact information and order history are stored within Freestyle, and if you prefer to print your order rather than email it, simply save it as a PDF. With these quick tips to improve the inventory purchasing process, you will be on your way to successfully sending your orders with ease and more.

Automatic Inventory Updates
The order you placed with your supplier has arrived, now what? Reconcile the order and your sales channel inventory levels will be automatically updated and synced back to the channels you sell the item(s) on. With our purchase order management system, orders that have items missing can be partially received and a Back Order will be created until those items are received.
Product Tier Pricing
Does your supplier offer you special terms or discount levels? In our purchase order management system, you can automatically include the correct 'buying level' pricing on each purchase order, so you always have an accurate understanding of how much the product is actually costing you.


Partially Receive & Track As Back Orders
Are you missing a few items from your order? No problem. By incorporating purchase order management, you can partially receive shipments by adjusting inventory quantities based on what you actually received, and create a back order to track those forgotten items. Then, those back orders can be tracked so you never forget them, and reconciled at a later date.